PREPARE  Buy your ticket at the first ticket sale, it starts about 10 months before the festival. If you want to participate at the first weekend (which is the best), you need to buy your ticket at this time.  Find the perfect house for an unforgettable Coachella-weekend. The house is one of the most important things (I think), if […]
PREPARE
Buy your ticket at the first ticket sale, it starts about 10 months before the festival. If you want to participate at the first weekend (which is the best), you need to buy your ticket at this time. 
Find the perfect house for an unforgettable Coachella-weekend. The house is one of the most important things (I think), if you don't want to stay in tents at the festival area. You can find many options on Airbnb, but book at least six months ahead.   
You will experience one of the biggest fashion festivals of the world. Prepare your outfit for the three days – this is important, Four words: TAKE IT ALL OUT!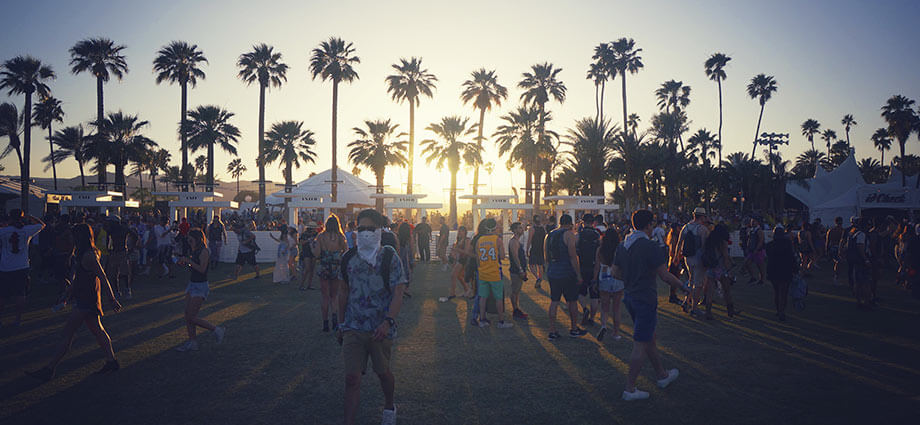 OUTFITS
Choose your style! You find everything at Coachella: from spring fashion outfits of the year, to people dressed like rabbits and unicorns. It's no limit; you can be a fashion-queen or be your most wanted carnival-look. This is the place to take it all out.  
If you choose to be a fashion queen and on point with the years fashion trends – Revolve and For Love And Lemons  is the place to shop your outfits. 
Since the festival takes place in Palm Desert, the weather changes pretty drastically from day to night. At daytime you can walk around in your bikini and still be too hot to function, but when the sun sets its time to take on a coat or two. I recommend bringing a jacket to have in your purse, dance your ass of and drink a lot of bubbly rosé at the Rosé Wagon. When Rihanna suddenly shows up in the middle of David Guetta's performance of "Where Found Love", you def forget about the cold anyways.  
Check out my lookbook "Baby Let's Play" from Coachella and browse through articles from Buzzfeed, MetDaan, Popsugar and Jolie. Here you can find inspiration and see all the top outfits from Coachella 2016.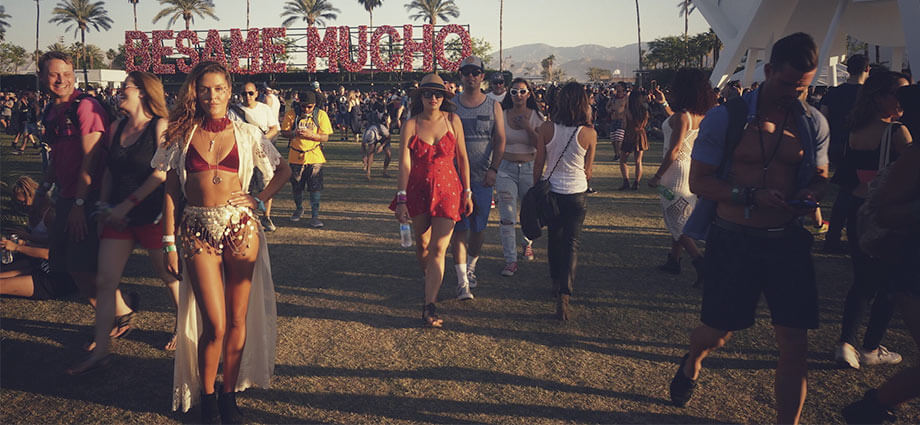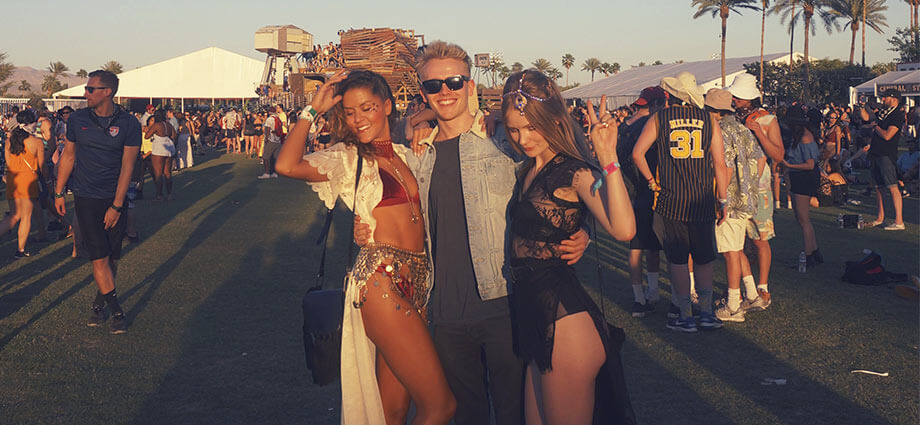 MUSTS
Bring your most awesome friends; either you like to be a big group or just a few, this is what makes your festival experience special. You need to bring those who knows how to have a great time even when it's f***ing hot, your are hungry as hell or a douchebag spilled his beer all over you. 
Do yourself the favor and Über to the festival. Forget about the free bus and the chaos. It's hot as hell and you want to arrive with a little bit of glam before you get beer all over and dance of all your makeup. 
Download the Coachella-App – check out the lineup and update your own calendar. It's so many artists and things going on, so this is mandatory if you want a little overview. But remember the lineup is one thing, the surprise artists is a whole other thing….
Bring a certified ID-card. You get a reminder everywhere you turn at Coachella, but since ID-cards are different all around the world its important to emphasis this. 
PS: You don't get any booze if you forget it!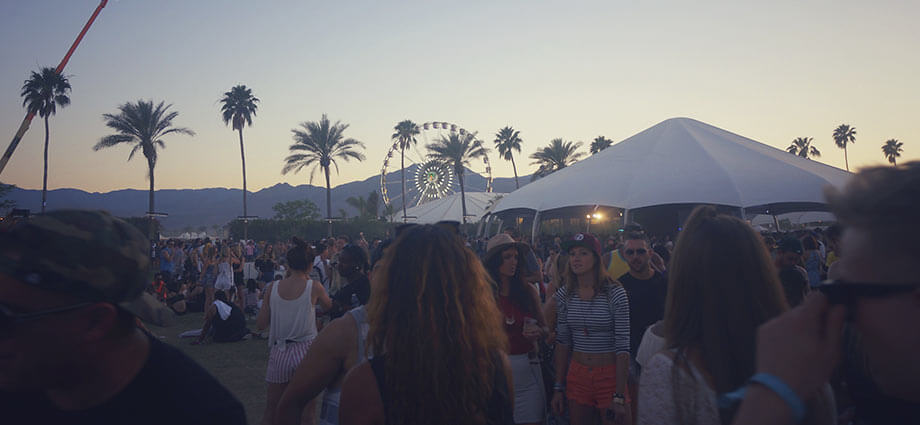 PARTY
Neon Carnival – Hollywood's Biggest After Party. Buy your tickets a head, getting in can be a hassle!
Subscribe to @RSVLTS  – get the insider guides and invites to all the Coachella parties  
Buy your inflatable swan from Funboy and make it a hella pool party in your Coachella home!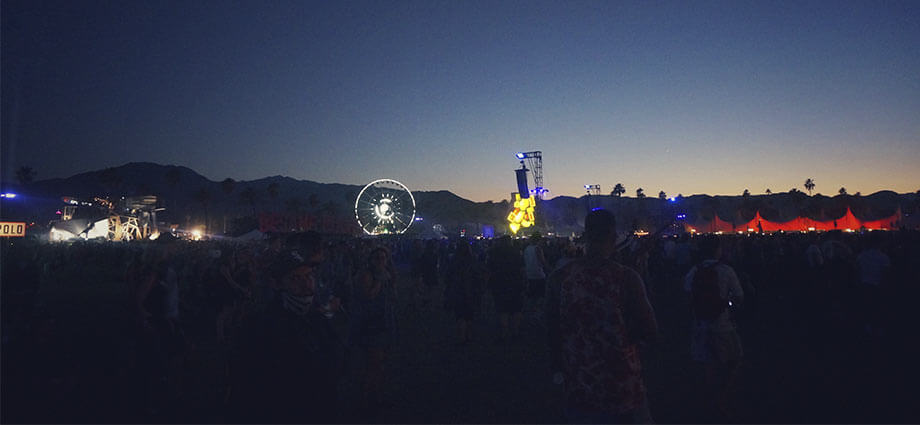 STAY
This is the ultimate Coachella home. Beautiful house with two big bedrooms, huge living room and kitchen with everything you need. Pool and hot tub, and two bicycles you can borrow – what more do you want? About 30 minuets to the Coachella Valley Music and Arts Festival area and super easy to get a Über from the house.  
POST FESTIVAL
Minimal Sleep. Sore Body. Sand Coughing. Tender Ears. Three days with unforgettable memories. You need to process the experience you just had and recover from you festival-coma.  The best way to do this – check out my Post-Coachella-Get-Away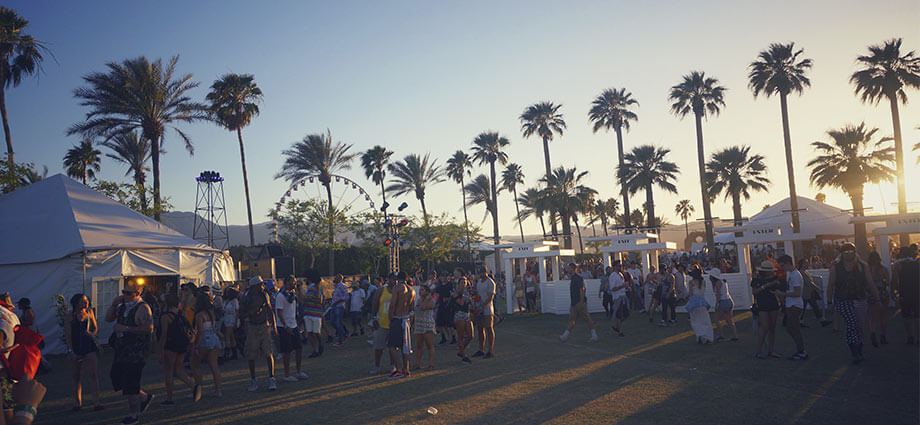 Worth mentioning about going to Coachella:
One thing I loved about the festival is that everybody is so happy and spreads their joy! No place for haters!  
Coachella Valley Music and Arts Festival is one of the biggest fashion and music festivals of the world. Still, the fashion part is probably bigger at the private parties because at the main area is only the crazy carnival-looks who stands out.  
The food and drinking scene could have been better. It's food trucks with tacos, burgers, fajitas, Asian bowls etc., so for munching you get what you need. The cocktails was not the best, I would drink beer, sangria or rosé bubbles.