The landscape at Sarakiniko, Milos Island is like no other place – with it's long horizontal rocks bent over the sea. A must see in Greece.
Sarakiniko Milos Island
Sarakiniko, Milos island is the famous beach with the white rock formations. It is located at Milos, an island in Greece. The island is shaped like a horseshoe and is located furthest west in the Cyclades, the archipelago which also consists of Santorini and Naxos. The island ibeautiful and peaceful which differs from the other famous Greek islands.
Moon beach Milos 
It is over 70 beaches you can explore on the island of Milos, so you're not able to explore them all on one vacation. If you rent a car, it is easier to get around and find the picturesque hidden gems on the island. Nevertheless, the popular Sarakiniko also known as Moon Beach, Milos is absolutely worth a visit.
Surface of the moon 
Sarakiniko is the most famous beach of Milos, also known as Moon Beach, Milos located along the coastal road east of Adamas, northeast of Milos. Even though this beach is advertised the most and you've seen a lot of photos, it will still blow your mind away. The landscape is like no other place; with it's long horizontal rocks bent over the sea. These rocks are eroded by time and salt water, and have small and huge hollows all over them.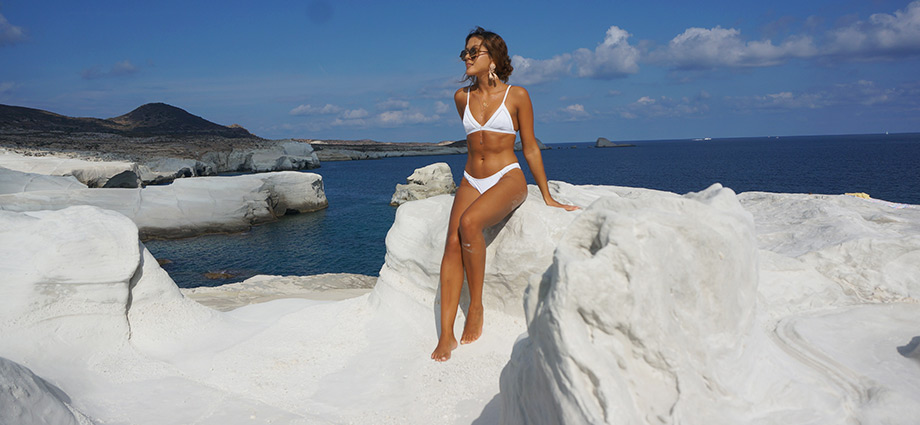 White rock formations at Sarakiniko
Sarakiniko is also known as the Moon Beach, Milos because its landscape resembles a scene from an extraterrestrial place. The entire landscape formed by the volcanic rocks doesn't show any signs of vegetation with its sparkling white color. This makes a magnificent contrast to the deep blue and turquoise surrounding water. The scenery gives an impression of standing on the surface of the moon.
Travel to Sarakiniko, Milos Island
The tourist scene is at its peak from June to Mid-September, so I recommend traveling in May or late September to avoid the mass. I visited Milos the last week of September, and it was perfect. Its right before they close for the season, and the temperature is comfortably warm. Even at this time you find seniors and backpackers crowding up at Sarakiniko around noon. But if you go there after sunrise (you need the sun to experience the sparkling white rocks), you probably have the place almost to yourself.
"Stand on the surface of the moon, surrounded by white rock formations. It's magical."