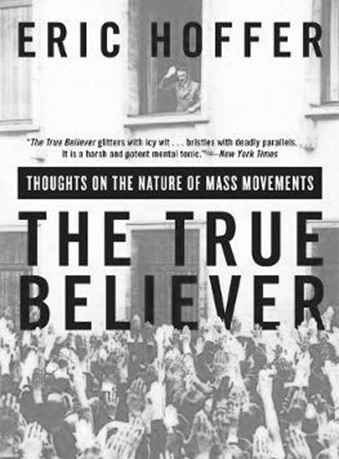 The True Believer:
Thoughts of the nature of mass movements
– Eric Hoffer 
A stevedore on the San Francisco docks in the 1940s, Eric Hoffer wrote philosophical treatises in his spare time while living in the railroad yards. "The True Believer" – the first and most famous of his books – was made into a bestseller when President Eisenhower cited it during one of the earliest television press conferences.
In this book Eric Hoffer sheds light on the nature of mass movements. He gives a penetrating portrait of the faith fanatic, his background and motives. What explains the power of mass movements? What makes the true believer submit to a leader in blind devotion and sacrifice his life if necessary?
An excerpt from the book:
"Passionate hatred can give an empty life purpose and meaning. As a consequence, people who are plagued by the meaninglessness of their lives, try to find new content, not only by devoting themselves to a sacred cause, but also by cultivating a fanatical dissatisfaction. A mass movement gives you unlimited possibilities for both."
Written in 1951, but still today, completely relevant and essential for understanding the world we are living in. "The True Believer" is a visionary, highly provocative look into the mind of the fanatic and a penetrating study of how to become an individual.
Read. Reflect. Repeat.
#BOOKCLUB