One of the best European cities for excellent coffee, green elegant lunches and delicious sweets. Here are the best café in Paris – some of my favorites coffee shops through the years and the ones that are still going strong in 2020.
The best café in Paris
Okey, so I couldn't choose just one café. The best café in Paris is actually four unique places at the moment. The original article was called the best coffee shops in Paris, but through the years the coffee shop trend expanded to include new cafés with menus loaded with salty greens, avocado snacks and sweet heavenly pancakes. I think café is a better word for a place like that, because it indicates that they offer more than just great coffee.
The three last ones on my Paris list are the best coffee shops in Paris. These are like the typical coffee shops in Paris who have stayed the best ones for some years now. This is where you go for a great coffee. The best café in Paris are places that serve everything like a beautiful Instagram picture. And it's not just pretty to watch, it's so delicious to eat and drink as well, which is a must. Some of the cafés have been my favorites for many years now, others just opened and became a favorite straight away.
Have a lovely stay in Paris and enjoy the taste of coffee, greens, salty, sweet and nutty. Here are the best café and best coffee shops in Paris: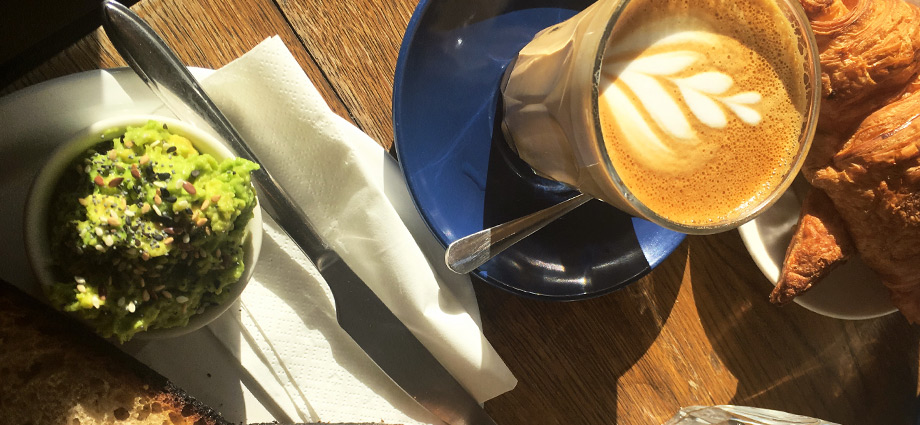 Seasons Paris – salty greens & sweet pancakes
This little piece from heaven quickly became my favorite in Paris, at the very first visit. Seasons Paris offers a menu loaded with salty greens, avocado snacks, sweet heavenly pancakes and great coffee. At the moment I would say it's the best café in Paris, exactly because of the reasons described above. It's not only my perception of this café, something you will notice if you come here at lunch hours (between 11 am and 1 pm).
The wait can be long, but if the weather is good, you can get take away just around the corner. Little take away Seasons is open until 4 pm, and you can get almost everything on the menu (expect the ones with eggs). Make sure to try the Green Pancakes – Moringa pancakes with mascarpone, blueberries, almonds and maple syrup. Also the noodle season salad or the Acai bowl with peanut butter is a delicious, healthy lunch option.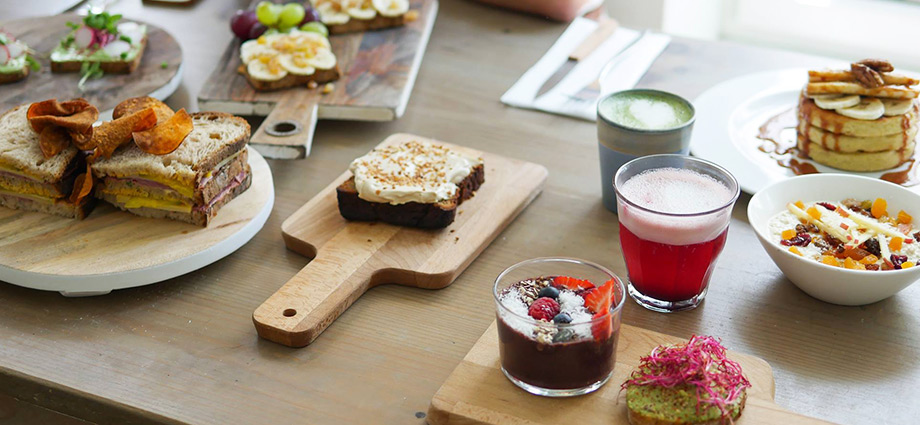 The picture belongs to Seasons Paris.
Love Juice Bar – acai bowls and great coffeee
Tucked away in a small alley in North Le Marais, you find this little green place. Like the name indicates, it's not your typical café, but more a juice-to-go-kind-of-place. If you give it a try, even if your gut tells you to skip it because you want more than juice, you will actually experience that this is way more juice.
The menu is small with a few bowl options – acai, matcha and mango with delicious topping. Quality over quantity, right? Since the seating is limited, this is a great option if you live close by and can enjoy your yummy breakfast back home. The coffee at Love Juice Bar is really good as well. They make their own nut milks, and will help you decide which one goes best with your preferred coffee type. Smile – you will have a happy day!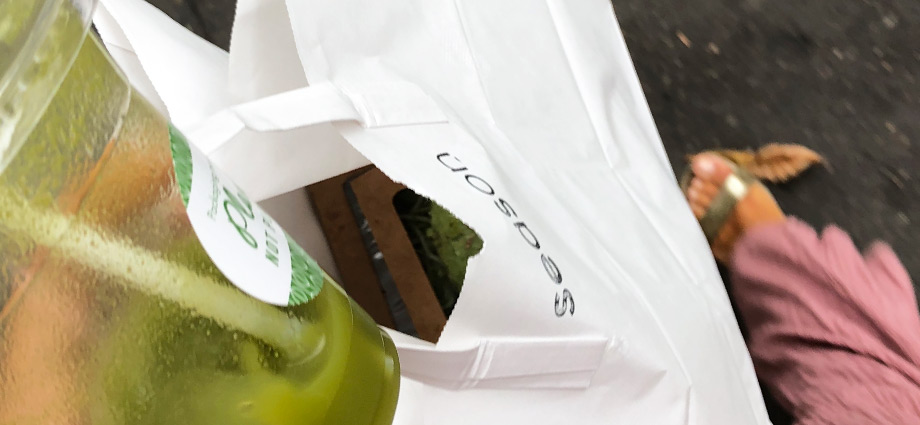 Citron – Mediterranean avocado snacks
The café of Jaquemus and Kaspia that everybody is talking about. I was of lucky when visiting, because it's supposedly always a line. Maybe because I visited before lunch time, late breakfast around 10:30 am. Note that. The french designer, Jaquemus, opened a Mediterranean cantine in collaboration with Kaspia at the heart of the brand new Galeries Lafayette on the Champs-Élysées.
The menu gives you a strong holiday feeling – café crème, brioche with glazed citrus fruit, a boiled egg, greek yoghurt with seasonal fruit, avocado and feta toast, and a wonderful freshly squeezed juice. Are we in a Mediterranean garden or a small village in the south of France? It sure feels like it. For dessert (you need to save place for this), the signature dish – Cédric Grolet's unique lemon! The alternatives is seasonal. Check Instagram and you will understand why this is a must.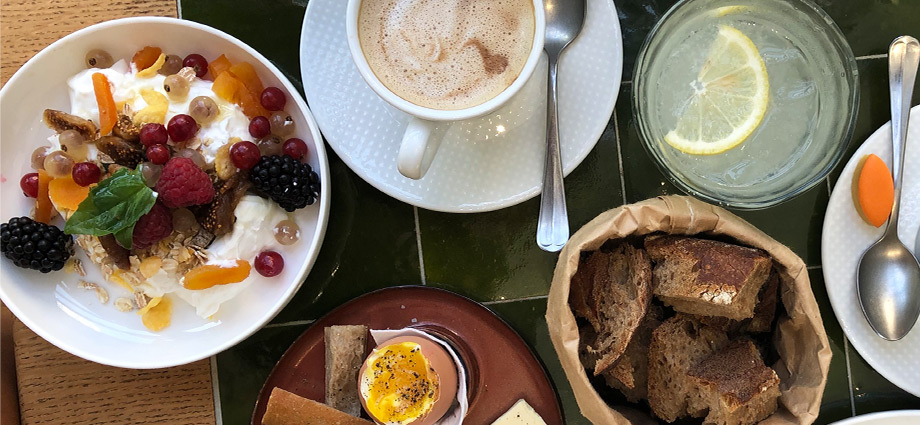 Holybelly – sweet pancakes with seasonal fruit
Well, hello good lunch! You may have to wait an hour for a table and on Sunday maybe two, but I swear – it is so worth it. While you wait, you can have a great takeaway coffee and walk around Canal Saint Martin, but be sure to be back so you don't loose your table…. Treat yourself the Sweet Stack (pancakes with seasonal fruit, whipped cream, hazelnut and maple sirup) for dessert.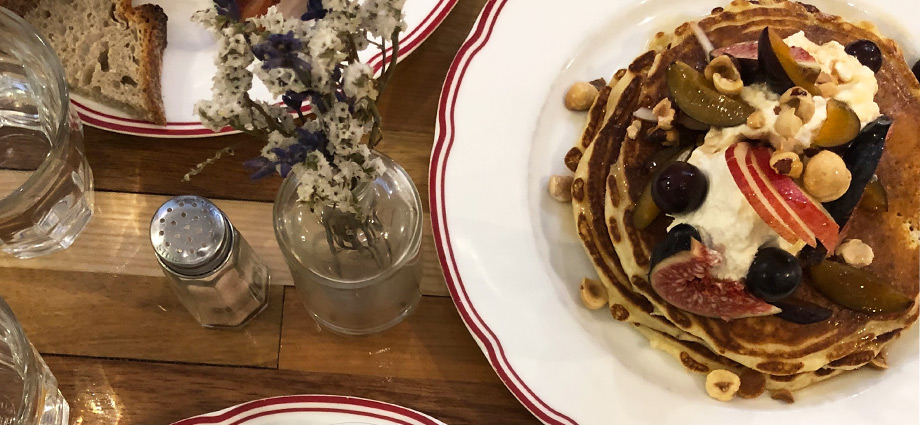 The best coffee shops in Paris
Great coffee shop in Paris, close to the Eiffel Tower. In addition to the tasteful coffee, you can enjoy a delicious brunch with salty greens, avocado snacks and homemade sweets (changes daily). Always good vibes from the speaker, and if you love surfing, you will enjoy this place. Bring your friends for the ultimate weekend brunch!
This tiny little café in North Le Marais, is definitely worth a visit. They serve great coffee, homemade sweets and offers lunch like granola and avocado snacks. It's a small place, but warm and cozy.  Perfect to go alone with a book or your laptop.
Fashionable coffee- and concept store in North Le Marais.For lunch you can enjoy salty greens, avocado snack and sweets, but you have to be here before 1pm. Otherwise they are usually empty. Perfect for a coffee date and when you want to shop brands like Jaquemus, Loewe, Lemaire and Comme des Garçons. Great outdoor seating.
Lunch rules in Paris
Before I specify the different ones, I will let you know some of the ground rules about lunch culture in Paris. This will come in handy, trust me. If you want to indulge at the best café in Paris, you must do what the french does. 
Make sure you take time to figure out which arrondissement you will be staying and where the best cafés for breakfast and lunch are located. This can be of great help, especially if you are renting an Airbnb, but also if you stay at a hotel. Let's be honest, the best food is never served at a hotel.
If you are close by any of the recommended places below, you have a great option for both breakfast and lunch. The best coffeeshops in Paris usually serve lunch from noon, and the kitchen closes at 4 pm. It's a good idea to postpone lunch a bit, so you don't need to waste time in line with hungry foodies. But if you are planning on a late lunch, be there before 4 pm – or else…