Brunch can sometimes be better than dinner, in my opinion. Dive into the perfect combination of salt and sweet, green, spicy and juicy and let's make it a day!
In this guide you will find great places to eat in Notting hill, Soho, Clerkenwell, Covent Garden, Chinatown and the City of London. Enjoy 11 of my favorites in a city with more restaurants than citizens.
Places to eat in Notting Hill
– trendy lunch spot
You can find many places to eat in Notting Hill. In one of the beautiful streets in the area, you find Granger & co – a very popular lunch spot. I love places like this that combine great coffee, healthy, tasteful lunch and dinner servings and pastries you don't get anywhere else. All of this in spacious surroundings filled with families, businessmen and ladies who lunch. On weekends the queue can be heavy, but it's a juicery next door so you can fill up with vitamins while you wait.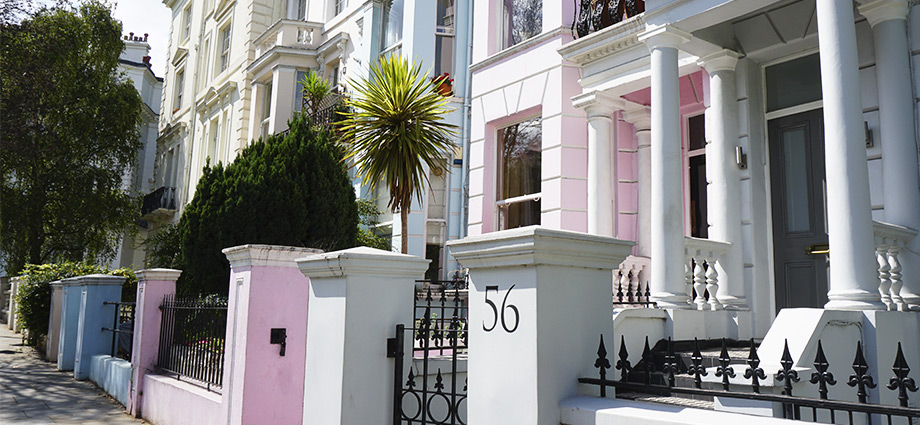 – tasteful vegan lunches
Just a few streets up from Granger & co, you find another popular place to eat in Notting Hill. Lavender latte, Rosé latte, Charcoal latte, Matcha latte, did I mention Turmeric latte? At Farm Girl you get your latte in all the colors of the rainbow. Almost everything is vegan and colorful, and yet taste so good.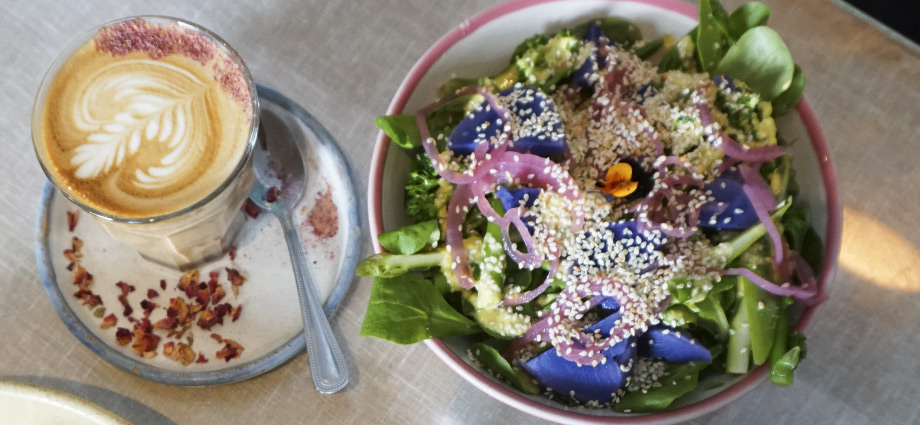 The place fills up pretty quickly with trendy foodies and local girls after their yoga class. Always cool beats from the speaker and you get your food pretty fast. The Buckwheat Berry Pancakes are the best I've ever had (if you don't include my grandma's)…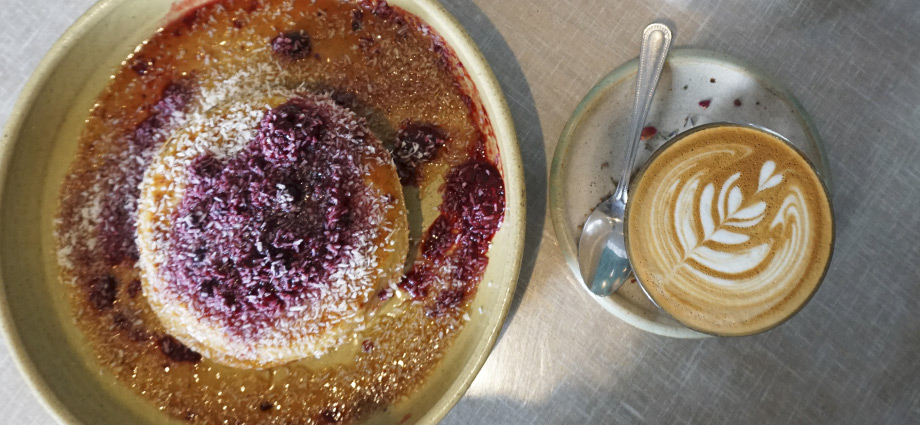 – organic lunch
Join in on an organic day at Daylesford Organic Farmshop and Café. This is a perfect place to eat in the heart of Notting Hill – both breakfast, lunch and dinner. This is where trendy Londoners come to chitchat and enjoy their fresh-from-the-farm-organic-lunch in a quite street a few blocks from the busy Portobello Road. On sunny days you can cool down with their virgin cocktails before you continue your day. Try seasonal Bellini or Green Mojito. Super refreshing!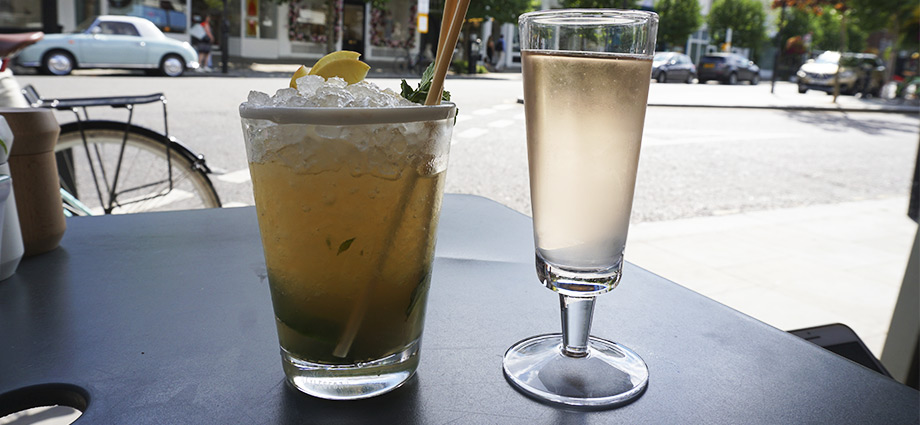 – take an egg break
Eggs are boring you say? No no, you haven't been to Egg Break. Tucked a way in a quiet side street from Notting Hill Gate. Two floors, but always busy at lunchtime no matter the day. Try the Halloumi Eggs with heritage tomatoes and avocado. The perfect meal for girls on the run.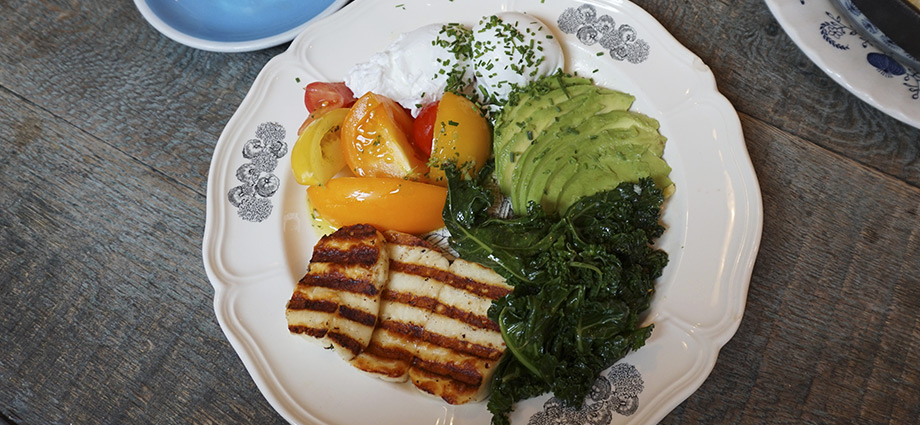 Places to eat in Clerkenwell
Clerkenwell is the up and coming London. Bourne & Hollingsworth is a prove of that. Chairs covered in tropical prints and potted plants spill from the ceiling is a hallmark for this big restaurant. Enjoy weekend brunch with a classic Eggs Benedict and explore the areas around Exmouth Market. This is also a place I would book for a dinner party with friends or afterwork with co-workers.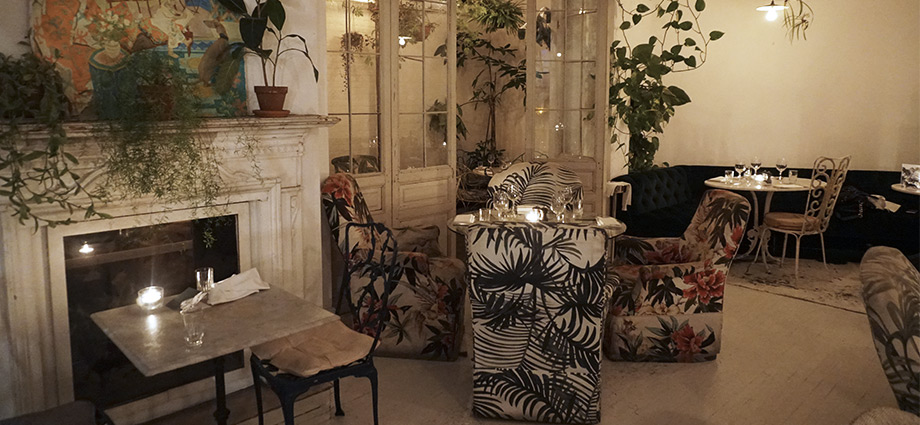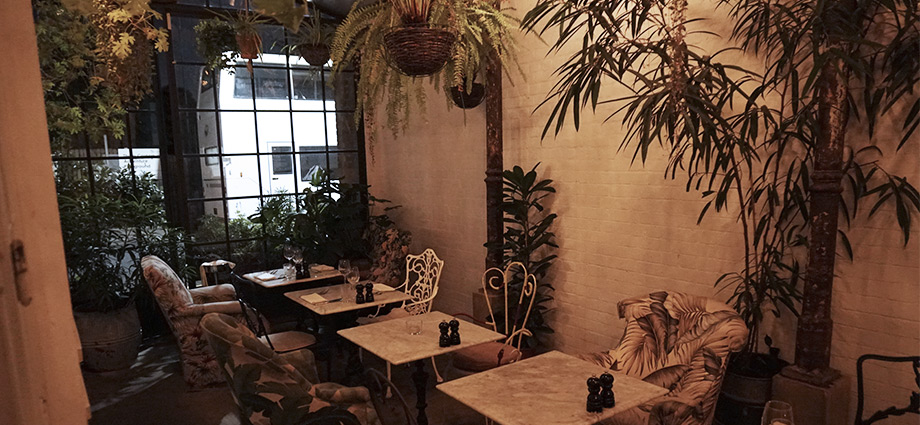 Places to eat in Soho
– when you need some sugar
To find a place to eat in Soho may be the easiest thing. The area is packed with restaurants and small food courts. But still the problem arises if you are bad at choosing.
Imagine this: running around Soho looking for the perfect pair of vintage sunglasses, and suddenly you feel an urgent need for some sweet, sweet sugar. Hello Bread Ahead. This little piece of gluten heaven makes you want to drop all sorts of diets and meal restrictions. Because these pastries are as good as the hype, and if you want to manage a couple of hours more in busy Soho, treat yourself the doughnut filled with caramel. Yum-my.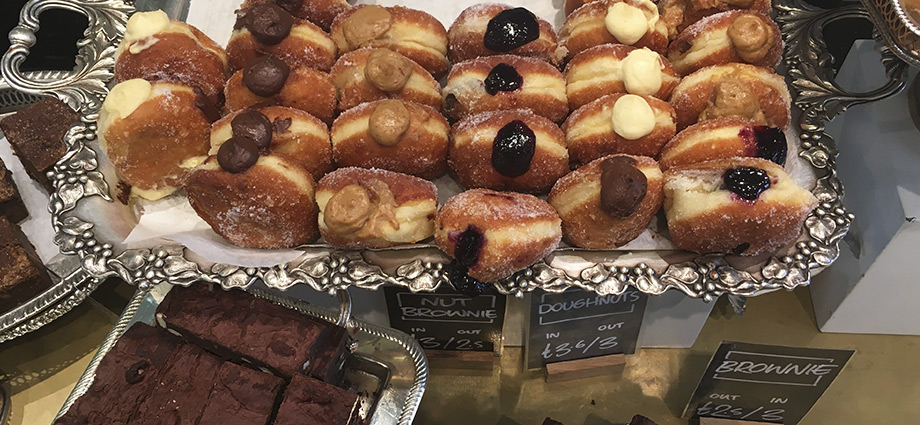 – food court in Soho
As we established there are a lot of places to eat in Soho. Almost too much when you wanna have a tasty lunch, but don't have too much time. Because without checking, you often end up with just mediocre, and who wants that? So, my point is – head to Kingly Court. Here you find many options, but at The Good Egg you get a spicy, delicious shakshuka, fast and without fuzz. Perfect meal for a busy shopping day.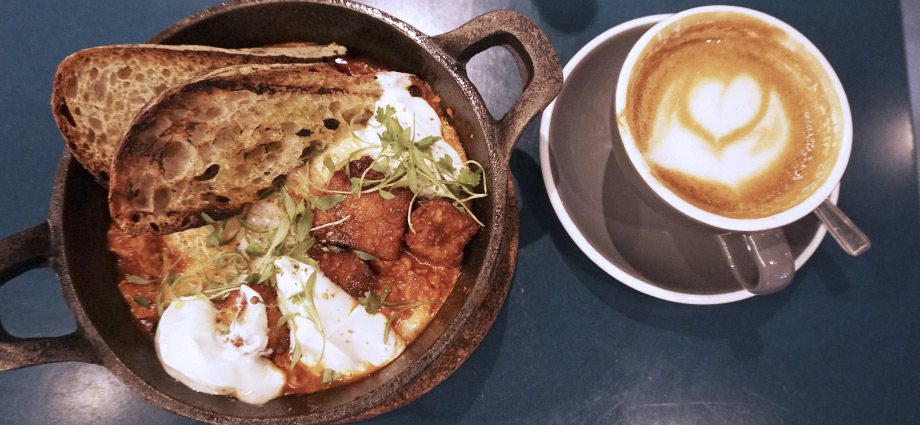 Places to eat in Coven Garden
– first coffee shop in England
It all begun at the Angel Inn, where a man from the Middle East called Jacob opened the very first coffee shop in England in the year 1651. Jacob the Angel is a small coffee shop in Neal's Yard – the iconic little courtyard in the heart of Covent Garden. Serving perfectly brewed coffee and small breakfast and lunch options. The atmosphere and vibe at this little hidden gem is the best thing, and of course their famous coconut cream pie…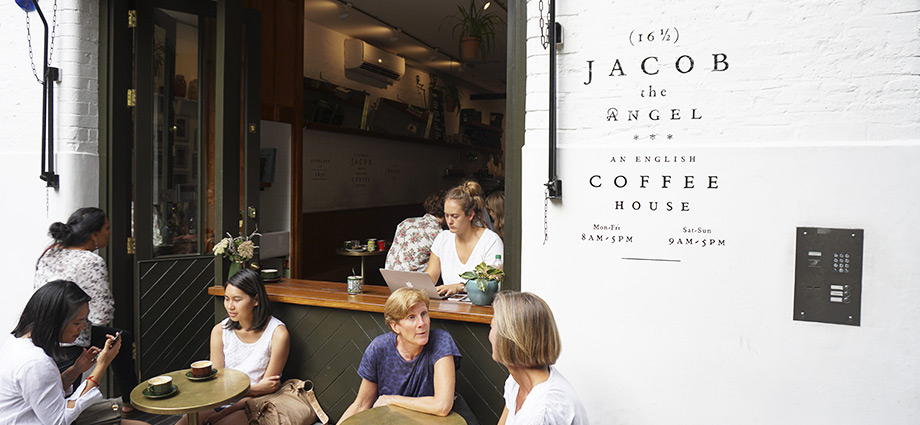 Crave a glass of wine? Try the french wine bar across from Jacob in this little courtyard. For a chilly afternoon, it is perfect to cozy up on the second floor.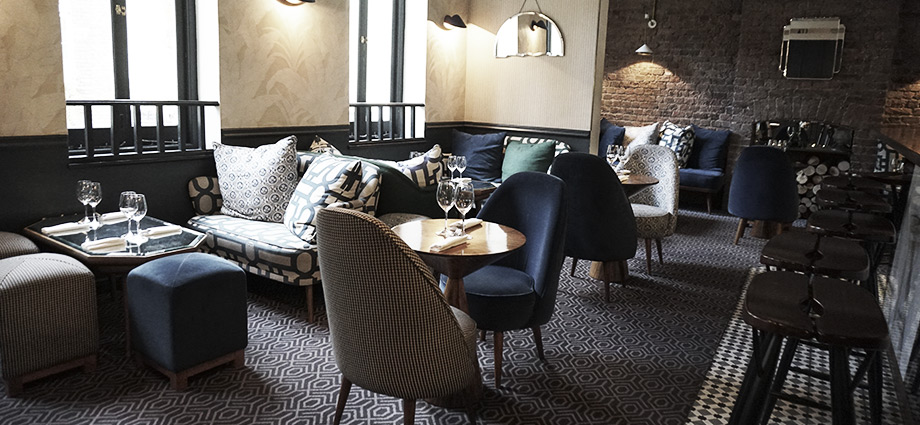 – bowl heaven in Covent Garden
If you want a beautiful little bowl of heaven, you head to this cute place in Covent Garden. Neal's Yard – the same little courtyard as Jacob the Angel. Colorful oatmeal bowls with yummy fruit or peanut butter bowls for the nutty lovers. Sit outside and enjoy the small and cozy courtyard.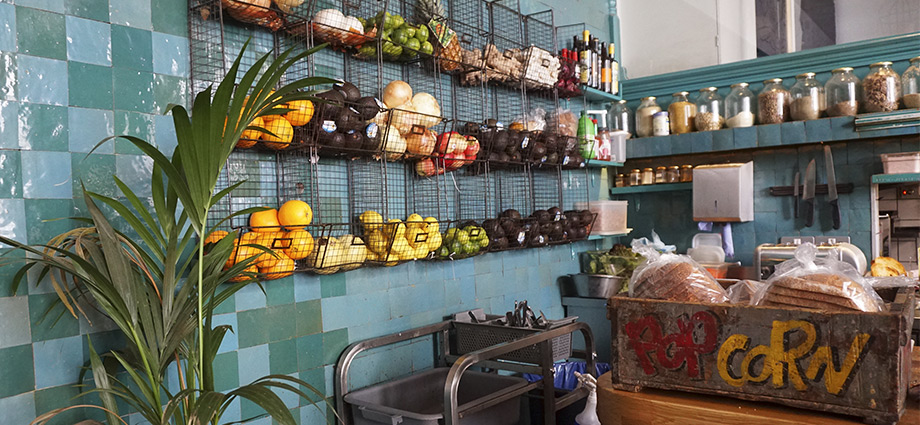 Places to eat in Chinatown 
– ladies who lunch
It's one of those places you can just pass by, and never know what you missed out on. Located in Chinatown, this is a place you would think is a members-only-place, but really – it's not. Dress up for a fine lunch with the ladies, because every day the dining room at Kettner's Townhouse is ready to make your lunch experience just a little extra. The sound of sparkling silverware clunking against pretty plates, old classics from the piano man at the bar and waiters who knows how to serve royals. Do I need to say more?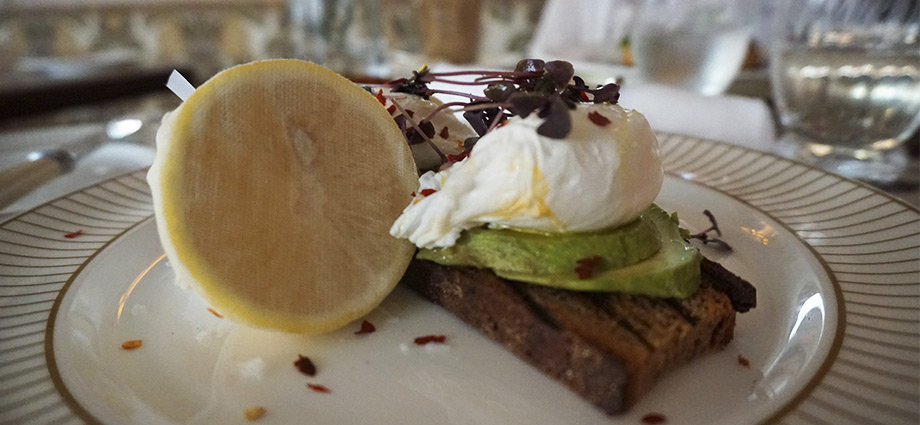 Places to eat in the City of London
– service around the clock
Been partying at The Box all night, heading home around dawn? Your body needs two things; sleep and food. Sipping passionfruit mojitos all night and dancing in heels makes your body tired, but also pretty damn hungry. If you're lucky enough to have the day off, I would recommend heading to Duck & Waffle for a little feast before your head hits the pillow.
Two minutes from Victoria Station, 38 floors up the Heron Tower (yes, spectacular view) – you can get 24-hour service. Yes, you heard right. 24/7 you can enjoy a proper, delicious meal. Try the signature Duck & Waffle dish: crispy duck-leg confit and fried egg served on a waffle with mustard maple syrup. While you wear makeup from last night (you're not alone), businessmen will arrive for their morning meetings. Classic London.
If you decide to skip the whole party-all-night-breakfast-38-floors-up-London-experience, I would recommend booking a table for both lunch and dinner.