What are you waiting for? Cuba is a kind of place you need to visit before it changes. The authentic vibe and creative spirit of this country is remarkable.
In this article you will get to know the best places to travel in Cuba, and what to see in Havana, the capital of Cuba. Walking around in Old Town Havana is an one of a kind-experience, and driving the typical old American car is a must. But don't expect Cuba to be an island with no tourists. Cuba is just like the rest of the Caribbean islands, with a lot of tourists from all over the world. 
With that said, Cuba is unique and authentic. The locals breath and live the creative spirit of the country, which is inspiring to experience. With a little help on the way, where to eat and stay in Cuba and what to see in Havana, you will have a wonderful vacation on the island of Cuba.   
Since we live in an online world, it is good to know that Wi-Fi is limited all over the island. Be prepared for an offline-vacation.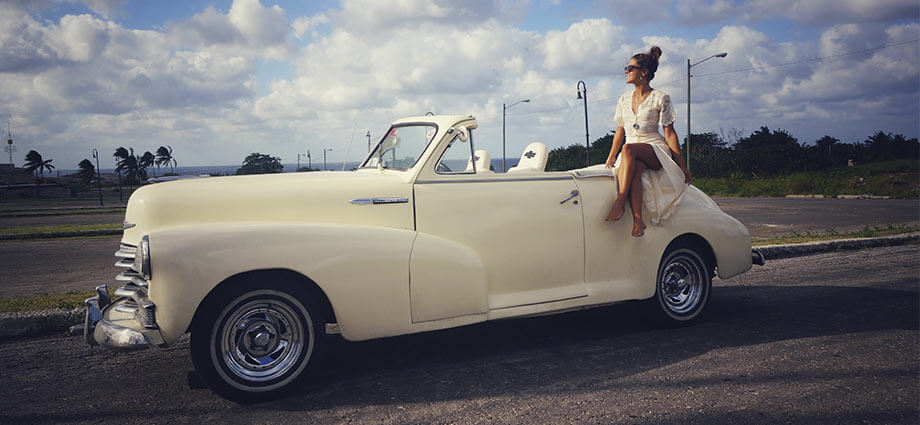 Where to eat in Havana
For breakfast in Havana, I would go to Mama Iné. Traditional breakfast options served in a beautiful old, cuban building. But don't be in a rush when you visit. The vibe is pretty chill and it can be crowded in the weekends.
For lunch you can either go for the chicken salad with a lot of fresh veggies and Lemonade Frappé in the little oasis at Art Pub. Or you can lie in the bathtub, sit in the old car or wagon and enjoy a good lunch at Café Fortuna. This place is a popular hangout spot for couples in love.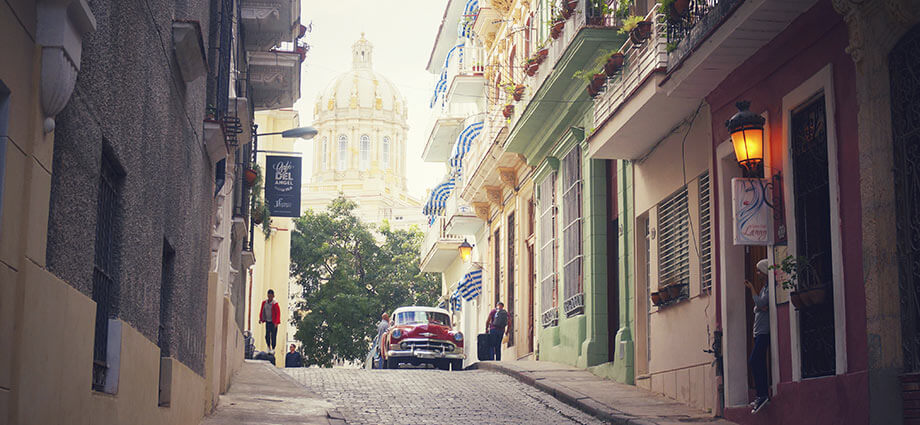 Book a table and enjoy a gourmet dinner at El Roof Garden de La Guardia. This places goes all the way back to 1996. It's still famous for its gourmet touch on the Cuban kitchen and the spectacular building. 
If your a true foodie, go where the locals go, as they say. Book a table in advance and experience the cool crowd and awesome tapas at El de Enfrente. The hype is real.
And of course, eat a lot of Chicharritas and Yucca chips. Super yummy!
Cocktails and drinks in Havana
Juices and coffee at Cafe Bohemia 

Cocktails and amazing sunset view at La Flauta 

Mágica

Wine, beer and cocktails at Encuentro 

Enjoy cocktails and the sunset from the rooftop bar 

Cocinero. Y

ou can also enjoy a fancy dinner here, but book a table several days ahead 

Experimental cocktails at O'Reilly 304
Best places to travel in Cuba – beaches
Perfect white sand and turquoise water! Take a walk at sunrise when it's almost no people, and experience when the sky and water has the same color. At daytime it can get pretty crowded here, but to avoid the mass of people head all the way to either the right or left side.  The right side gives you a feeling of a deserted island when you walk to the very end. Here you can also experience white flamingos. At low tide you can walk about 50 meter straight out and find a little dune to chill at for a couple of hours.  
The left side of Cayo Coco offers a little more "jungle feeling". At high tide the threes almost meets the water and you can get a natural shadow in the waterfront. Perfect place to snorkel and see all the colorful creatures of the Atlantic Ocean.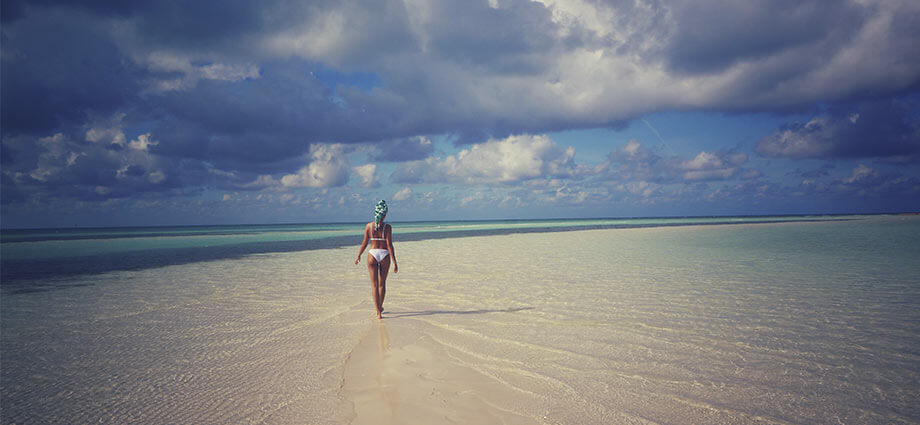 This beach is more windy, but much less crowded. Beautiful turquoise water and white sand. Perfect for those peaceful beach walks with someone you love. One of the best places to travel in Cuba, in terms of tranquility and peace.    
A little tip when you drive from the main land to Jardines del Rey. You will pass a place on your left side called Los Cayos, and this is a little colony of flamingos. All you will contemplate is a pink line on the ocean surface. Ask your driver, it's a pretty cool sight.  
What to see in Havana, Cuba
Take a sunrise walk at the prominent Malecón, and continue to stroll around in Old Havana. This actually feels like being in a movie from the 50's. For the best view of Havana, join a boat ride from the port to Castillo De Los Tres Reyes Del Morro.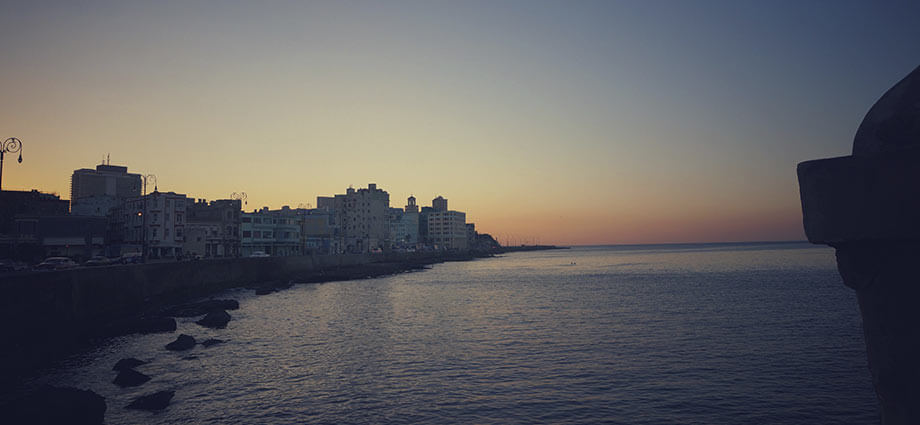 Take a daytrip to Viñales. This is a lush and green village about two hours drive from Havana. The view is just beyond. For lunch you need to go to Casa de Confianza, located on a little hill not far from the little village. They don't offer a menu, but will serve you all the Cuban food they have to offer. By far one of the best places to travel in Cuba, in terms of the food. 
When you go on day trips from Havana, make sure you rent the typical Cuba – an old American car.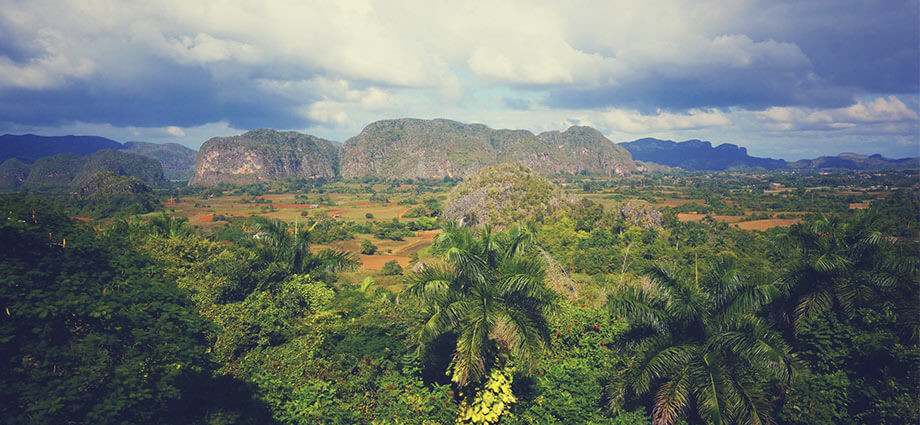 If you would like to explore the creative vibe in Havana, I recommend visiting FAC, Fabrica de Arte. This is a super cool nightclub and hangout spot. You can enjoy a concert, movie, dance performance, a play, or just have something to drink and hang out with a bunch of open minded creatives.
Where to stay in Cuba
To live in Old Town Havana is an unique experience. We rented an Airbnb, and in Cuba the most Airbnb's are with a host family. In Magalys House you will get the real Cuban neighborhood feeling. The inevitable city noise and the balcony view of both the Cathedral and Playa Vieja. The two hosts, Magaly and Leydiana, are so warm and friendly. They will make you breakfast every day and help you out with whatever you need.
If you choose to experience Santa Clara for a few days, you need to stay in Luz Maria's house. This Airbnb house is pink, beautiful and has that tranquil atmosphere. The family lives upstairs and they will welcome you with open arms. You get freshly made breakfast every day, and optional dinner to enjoy in the garden with their cute dog, Viva, and two peacocks. Definitely worth the experience!